" Leading College of Art and Design "
A systematic, future-oriented educational system inspiring free and creative thinking in art and design
The College of Art and Design is the first educational institute in Korea to offer a four-year college program in the arts. It started as the department of arts in 1945 under Yaerimwon and has evolved to its current form.
The college's purpose is to foster highly creative and expressive art professionals and designers through strengthened fundamental studies and more specialized programs, and to yield artists capable of interdisciplinary thinking through a more advanced educational framework.
As an open and forward-looking academic and research program, it will strive to achieve global competitiveness, enhance the status of Korea's art and design, and play a leading role in the creation of innovative culture.
1 step

Foster professionals in art and design
We will foster art and design professionals who are highly creative, expressive, and capable of expressing the world they live in by strengthening theoretical and practical studes in art and design.

2 step

Cultivate artists with interdisciplinary thinking
We will cultivate experts in art and design who are equipped with a vision to lead their community through interdisciplinary thinking that combines humanities, social science, culture, and art.

3 step

Nurture unique professionals
We will nurture professionals that stand out from the crowd by responding to societal demand and by offering integrative educational programs linked to related fields.

4 step

Strive to be world-class college in art and design
We will develop our global perspective and leadership skills by keeping in tune with contemporary arts and partnering with the world's leading art colleges.
History
" Ewha College of Art and Design CHRONOLOGY " The history of Ewha College of Art and Design
fnctId=hist,fnctNo=2
1945년 10월

Yaerimwon Department of Art
1947년 09월

Four majors installed in Yaerimwon Department of Art
(Oriental Painting, Western Painting, Embroidery, Design)
1951년 12월

8 majors installed in College of Art's Department of Art
(Oriental Painting, Western Painting, Sculpture, Embroidery, Design, Photography, Interior Design, Dyeing)
Department of Art installed in Graduate School
1960년 02월

College of Art approved, 4 majors installed
(Painting, Applied Arts, Sculpture, Embroidery)
1967년 12월

Painting divided into Asian Painting and Western Painting
Decorative Arts major added
1980년 10월

Fine Arts and Applied Arts majors in the graduate program divided into Painting, S culpture, Applied Arts, Textile Arts, Decorative Arts, Ceramic Arts
1998년 03월

College of Art renamed to College of Art and Design, Departmentalized undergraduate program initiated with 3 departments and 9 majors
Department of Art: Korean Painting, Painting, Printing, Sculpture
Department of Design: Environmental Design, Visual Communication Design, Industrial Design, Costume Design
Department of Industrial Arts: Textile Arts, Ceramic Arts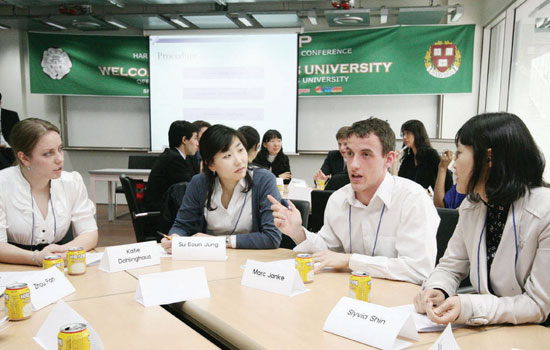 International Exchange
To respond to the internationally expanding arena of cultural exchange, the College of Art and Design established a number of new courses including Art/Design in London, New York, Art in China, the International Ceramic Arts Summer Studio, and Space Design in New York for the summer semester. The college has also promoted exchange with renowned colleges in the U.S., Japan and Europe based on exhibitions of artworks by both professors and students, and academic discussions.
The college will continue to promote international exchange with worldrenowned colleges around the globe.
Ewha Womans University has concluded agreements for international exchange with some 220 colleges and universities in about 30 countries. It has established an overseas base in 8 central cities around the world including New York, Beijing, London, Tokyo, LA, Paris, Berlin and Sydney. It plans to expand its overseas base to around 20 cities by 2010. Student exchange programs include general student exchange programs and ISEP student exchange programs. The general student exchange program enables students to attend foreign colleges and/or universities with which Ewha Womans University has concluded an agreement on exchange.
Tuition fees are paid to Ewha Womans University while dormitory fees are paid to the school attended by the student. Students attend the school for either 1 semester or 1 year. The ISEP student exchange program allows students to attend foreign colleges and/or universities that are ISEP member schools but which have not yet concluded an agreement with Ewha Womans University. Students will study at these ISEP member schools for 1 semester. In addition to these programs, there are also short-term visits to foreign colleges and/or universities and programs where Ewha Womans University recognizes credits earned from individual overseas studies.
Projects / Activities
Academic Projects

Academic Projects

The College of Art and Design of the Ewha Womans University promotes the Ewha Brand Project in order to provide education that is in step with the spirit of the age and the field of the industry. The Ewha Brand includes 'E:Gyull' which has its own shop in Garosugil Road, Sinsadong, the fashion design brand 'E:FEEL', and the ceramic design brand 'E:MOMM', both of which have their own shop within the campus. The Ewha Brand, in which both professors and students take part, provides an experimental venue for determining whether creative and artistic designs have the potential to achieve commercial success. Undergraduate and graduate students conduct industryacademic cooperated projects with government organizations, public companies and other renowned companies. Such projects allow the development of leading design products and increase research records. It also provides on-site education for its students.

Students' Activities

Students' Activities

Students of Ewha Womans University engage in various club activities designed to promote a rich school life. These activities include cultural performances, religious activities, sports, social activities and academic activities. The College of Art and Design has its own student government that gathers the opinions of each student and represents these students to the university. The 42nd Student Government has organized and promoted various events; and by promoting a close relationship between each major, it has become the center of all College of Art and Design student activities. The Orange Day Festival organized by the College of Art and Design student government first started off as The Yaelim Festival, a student event organized by both professors and students to represent the College of Art and Design.

Alumnae Activities

Alumnae Activities

Alumnae of the College of Art and Design of the Ewha Womans University work in various fields internationally and domestically, and therefore they have achieved many successes. The work and success of the alumnae have become a good example to undergraduate students and have endowed self-esteem. The alumnae activities started with the founding of the Nokmihoei in 1949. Its first activity consisted in staging an art exhibition in 1954. The alumnae have continued to organized annual exhibitions including an exhibition to commemorate the 50th anniversary of the College of Art and Design in 1995. The Nokmihoei strengthens the relationships between the alumni by organizing the Nokmi Exhibition and charity bazaars to raise funds to build a College of Art and Design building.
Research Institute
Research Institute of Ceramics

The Research Institute of Ceramics was founded in 1959 with the establishment of the Ceramic Arts major with the aim of contributing to the development of Korean ceramic arts and ceramic industry by preserving the tradition of Korean ceramics and conducting studies on modern ceramic art. Since then, it has been affiliated to the College of Art and Design. The institute attempts to follow modern trends in ceramic art as well as continuously develop and succeed traditional techniques and methods. The institute provides special lectures for those interested in ceramic wares to promote an understanding of ceramic art.

Main Activities

- Academic research and presentations on traditional ceramic wares
- Experiments on and development of ceramic materials and glazing methods
- Development of new methodsclasses
- Providing classes for students in ceramics

Fashion Design Research Institute

Since foundation in 2001, Fashion Design Research Institute has been dedicated to researching design with primary focus on education on Korea's first fine arts-based fashion design majors in a bid to promote sensitiveness of domestic fashion industry and design planning competences in line with the consumer trends characterized by sophisticated sensitive consumption. Our institute has consistently engaged in industry-academy collaborative design projects since foundation while striving to foster fashion professionals through various education programs, including Korea's first fashion stylist leadership education. In particular, our institute launched its in-house fashion brand in 2005 to develop products by planning and designing of professional researchers with multiple years of professional career and had our design competencies highly recognized in markets, taking the lead in reshaping the direction of domestic fashion design education and research.

Main Activities

- To operate E:FEEL, Ewha Fashion Brand
- To develop industry supportive designs
- To develop contents related to cultural industry
- To foster fashion professionals and to engage academic activities

Research Institute of Color Design

The Color Design Research Institute is the first color research institute in Korea. It was established in 1997 under Ewha's vision to lead the 21st century culture, and government policy. The institute emphasizes the following: nurturing professionals in color design, organizing domestic and international color seminars, developing and publishing books on color, support technology for industrial coloring, and conducting color design projects (environmental colors, product colors, traditional colors, and others). The institute possesses books, color samples (NCS, Pantone, and other trendy color materials), and media (video, slides, CD-ROM and others). The institute has made available to the public materials on color including periodical publications on science, architecture, design, computer, history, social psychology, cultural anthropology, and color, as well as collections of papers.

Main Activities

- Conducted environmental color-related project
- Product Coloring Project
- Color Standardizing Project
- Cultural Contents Project
- Educational Projects

Design Converegence Research Center

In the past, products and services primarily pursued the utility value of physical function, but nowadays they gradually demand not only emotional function, but also intelligent service, accelerating the convergence of knowledge and technology between diverse professional fields, so called "hybrid phenomenon". From electric/electronic or wireless information device to means of transportation, medical device, robot, and game device, the knowledge and technology, which respective industrial areas have accumulated, are now enhancing their own value and utility through the point of view of new companions, such as marketing, design, psychology, brain recognition engineering, etc.
This laboratory was established to deal with this reality. We intend to provide the insight about the future of unpredictable market, retain the durability of development of technology, and contribute to the production of creative knowledge and contents through convergent design education, research, and business. The major businesses of this laboratory are certification scale development and industrial resource recovery of creative styling, and experimental-creative design DB construction of digital makers.
Contact
DEPARTMENT
LOCATION
PHONE
FAX
Administrative
Office
Dean Office
Art & Design Building A,
Room #202
02-3277-2480
02-3277-2845
Administrative
Office
Art & Design Building A,
Room #201
02-3277-2482
02-3277-2483
02-3277-2484

Department of
Fine Arts
Korean Painting
Art & Design Building A,
Room #301
02-3277-2486
02-3277-2430
Painting
02-3277-2494
Sculpture
02-3277-2502
Ceramics
02-3277-2526
Integrated Art Therapy
(graduate program)
Art & Design Building A,
Room #301
02-3277-2521
02-3277-2430
Studies in Visual Art
(graduate program)
Art & Design Building A,
Room #504
02-3277-3848
02-3277-3849
Department of
Design
Spatial Design
Art & Design Building A,
Room #301
02-3277-2514
Visual Communication
Design
02-3277-2514
Industrial Design
02-3277-2515
Media Interaction
Design
02-3277-2515
Color Design
(graduate program)
International Education
Building, Room #1308
02-3277-3935
Department of
Clothing and
Textiles

Fiber Arts
Art & Design Building A,
Room #301
02-3277-2509
Fashion Design
02-3277-2520
Research
Institute
Ceramics Research
Institute
Art & Design Building B,
Room #201
02-3277-3254
Fashion Design
Research
Institute
Art & Design Building A,
Room #117
02-3277-3851
Color and Design
Research
Institute
International Education
Building, Room #1302
02-3277-3719
02-3277-3930
Design Converegence
Research
Institute
Art & Design Building B,
Room #510
02-3277-2541
Other
Facilities
Arts Information Room
Art & Design Building A,
Room #101
02-3277-4311
Ewha Art Center
Art & Design Building A,
Room #216
02-3277-2484
Equipment Room
Art & Design Building A,
Room #113
02-3277-4312
Computer Rooms
Art & Design Building A,
Room #416, 416-1, 417
02-3277-2487
02-3277-2889
Directions
When coming by subway
get off at Ewha Womans University Station (line 2), come out of exit number 2 or 3, walk 200 meters forward, and you will see the main gate of the university.
Parking
Cars may enter or exit through either the front or back gate. All cars must use the ECC underground parking lot.
The Art & Design Building is closer if you park at the "D" zone. Take the elevator and get off on floor B1, and then come out through gate 12.